Musical history of the castle
Rich musical history and presence of the castle in Náměšť. The castle, that is a real home of music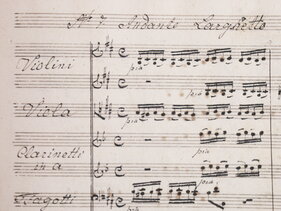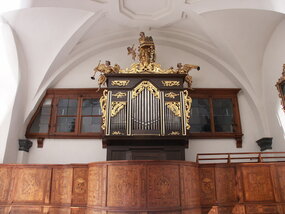 .
The castle in Náměšť nad Oslavou became an important centre of musical life in the end of the 18th and the beginning of the 19th century when it belonged to the Haugwitz family. It was not important only in the area of west Moravia, but Náměšť was famous as a "seat of music" in middle Europe. It was mainly thanks to the following people:
Jindřich Vilém III. Haugwitz (Henry Wilhelm III. Haugwitz) (30.5.1770-19.5.1842). Shortly after 1794 when he became an owner of the Náměšť castle, he established an outstanding castle orchestra. In the 30s of the 19th century his castle orchestra had more than thirty musicians and there were 9 solo singers and 24 choir singers in a castle choir. Most members of his orchestra were the servants of the castle. Moreover, Haugwitz even dismissed some employees, because they couldn't play an instrument and he employed new people. Musicians and teachers from nearby villages also performed with the orchestra. The ensemble was interesting not only for the number of musicians but also for its large repertoire and musical quality. Haugwitz collected more than 1.400 musical pieces from different authors.
It is also important to mention the fact that a composer Antonio Salieri (1750-1825) was a close friend of the count of Haugwitz , he used to visit Náměšť and its owners and he dedicated his Requiem to him. It was first performed in the castle chaple. Salieri also composed a "Congratulation cantata" to count's birthday and he dedicated his "Scherzi armonici vocali" to the young countess. Christopher Willibald Gluck (1714-1787) was also a friend of count Haugwitz, they met during their student years.
Musical performances were very frequent, when the orchestra was most popular the performances were played three times a week. For performances the halls on the first floor were used, but mainly former sala terrena, nowadays library and a castle chapel. Theatre, oratorio and opera plays were performed also in the nearby summer residence Schönwald near Jinošov. When the castle belonged J. V. Haugwitz, mainly between 1820-1840, Georg Friedrich Händel (1685-1759) was the most performed composer. The count bought a large, but unfortunately not finished, collection of Händel's work from a composer and a theatre director Samuel Arnold, and he also enriched the collection for 51 copies and 3 prints of Händel's work. It is very likely that most of the pieces were performed in Náměšť.The count also translated librettos of Händel's work, but he also re-arranged some pieces to the needs of his orchestra. Other interesting musical pieces come from Haugwitz's bandleader Bohumír Riegr, who dedicated his "Ode to music" and other pieces to the count.
Count Henry Haugwitz's follower, Karel Vilém II. Haugwitz (Charles Wilhelm II. Haugwitz (1797-1874)), was an interesting musical person. He enlarged a castle collection of musical pieces and he was also the author of some pieces himself. He was mainly interested in simple pieces. Karel Vilém unfortunately allowed the end of castle orchestra.
Nowadays, the castle is a venue of regular concerts that follow a rich and important musical tradition established by former owners. Regular concerts of the international festival Concentus Moraviae take place here the same as summer world music festival Folk holidays, summer master school of Czech opera and singing Moravian Masterclass and many other concerts. The top of musical performances is a traditional Castle concert, which follows a tradition established by the Haugwitzs the same as a regular Castle advent concert.
Quick contact
Are you lost? Don't worry, give us a call and we will help you.
Zámek 1/, Náměšť nad Oslavou 67571